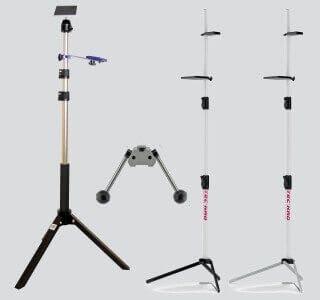 What are you looking for?
Gun Accessories
Get the most out of your air gun or air pistol with the latest and greatest accessories. At Kiehberg, you'll find air gun accessories ranging from grips to shooting sticks and everything in between. For air pistol owners, you'll find barrel weights and shooting sticks to help you prepare to win your next shooting competition. If casual shooting around the backyard or small game is more your style, we have accessories for air rifles including sights, butt plates and gun slings.
Your air pistol and air rifle will be more enjoyable if they are taken care of, you have the right (and best) equipment and you're able to comfortably shoot them. Our air gun accessories will make your shooting session fun.
If you're just starting out, be sure to get started on the right foot by getting a good quality air rifle or air pistol and pellets. The type of pellets you use is determined by how you use your air gun. Competitive shooting uses different pellets than casual hunting or shooting.
About Kiehberg
We are a quality outdoors equipment supplier and distributor based in India. We sell air guns and air gun accessories from the top manufacturers. We stand by our products and their quality so we offer free shipping all over India on all our products. You won't find a larger selection of air guns and air gun accessories anywhere else. Kiehberg also sells equipment and accessories for other outdoor hobbies as well including camping and fishing. Browse our collection of gun accessories below and buy online today!
For more information about our products, contact one of our knowledgeable customer service representatives today.