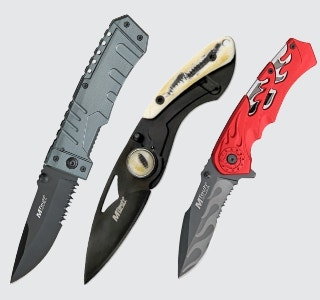 What are you looking for?
Buy Tactical Knives Online
These tactical knives are designed to provide serious and reliable performance in nearly any environment. They are easy to carry and deploy, and the unique styles and durable materials make them a useful and stylish addition to your everyday carry.
What is a "tactical knife"? The name has evolved to include a wide range of knives. You'll find features that are normally associated with survival or military knives (sometimes just called combat knives), but you can also find folding knives that are convenient to carry but still have all the features you want.
These knives gained a lot of popularity as a great utility tool and self-defense weapon. Some of them were designed to make it clear that you are carrying a knife, while others are far more concealable.
Putting Your Knife to Use
Tactical knives are great for a number of jobs. While they were originally created with public safety personnel, first responders, and military people in mind, they are regularly carried by hunters, campers, and sportsmen.
At Kiehberg, we offer a range of these popular knives, made with the highest-quality materials and designed to stand up to some rough treatment and unforgiving environments.
Will you wear a belt knife on your next camping trip? Perhaps you'd prefer a boot knife, perfect for carrying larger knives without putting them on open display.
These knives are easily deployable and designed for durability and dependability. Take a look at our current selection and order your tactical knives online today.