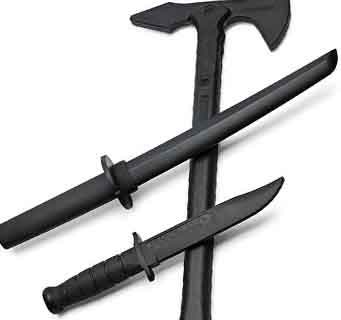 What are you looking for?
High-Quality Training Knives for Sale
These cold steel training knives are a safe and effective way to build your skills and get a feel for certain blades. Rubber training knives are designed to let you train with a blade that approximates the shape, weight, and feels of the knife you plan on using.
It's one thing to train with an item that vaguely resembles your knife, but to become truly proficient you will need something more.
Taking these safety precautions will minimize the possibility of injury during training (to yourself and your sparring partner) and help you discover new ways to use your knives for hunting, fishing, and self-defense. You can use these training knives for solo practice, disarming drills, demonstrations and more. Now, you can start practicing your moves and drills in safety.
Personal Training and Security
We offer a range of cold steel Koga defense tools. These items are made of high-impact polymers and were designed to help certain restraints, joint locks, and submission holds. When you have the right training, you can get the necessary leverage when you target pressure points.
A Koga is also used to concentrate the effectiveness of a hand blow while minimizing the chances of causing injuries. Order yours and try it yourself.
Quality, Reliable Products
At Kiehberg, we provide the reliable products designed to help you train safely. Just because you're training, that doesn't mean you shouldn't have the highest-quality products. You need something that provides reliable performance in any situation.
When you need to approximate some realism while training or demonstrating a move, take a look at these training knives for sale and find the one that matches your needs.
We offer free shipping on all orders, so if you're looking for a self-defense tool that will minimize the chance of harm to you or others, these cold steel training knives offer a lot of advantages. Order yours today and start mastering your moves.