Air Gun Pellets
At Kiehberg, we have a large variety of pellets for your air rifles and air pistols. After all, pellets are what makes your air gun fun. There are two main types of air gun pellets: Match (or competition) pellets and hobby pellets. Kiehberg carries a selection of both types so you can find the right air pistol and rifle pellets that work best for your air gun and needs. If you need help in selecting your pellets, you can do the trial and error method or contact us and we can give you suggestions and recommendations.

The only significant difference in the two types of pellets is the size. Match pellets are smaller as both match air rifles and match air pistols have a narrower bore hole through which the pellets exit the gun. Hobby air guns have slightly larger bore holes requiring a larger pellet size. There are many sub-types of air pellets, mainly dealing with their shape. These include domed, hollow point, and pointed. The common, traditional shape of air pellets resemble an hourglass, with a wide head and a wide skirt with a narrow middle. This design best evenly distributes the weight of the pellet so it can be shot further with greater accuracy. The hourglass shape also helps it to more quickly and efficiently exit the gun upon being fired.

Air guns tend to be picky often requiring one specific type or brand of the pellet to work ideally. Figuring out which pellets are best for your air rifle or air pistol will require some trial and error between different pellets. Your airgun will shoot smoothly and more accurate when the right pellets are used.

Check out our selection of air pellets below and buy online today!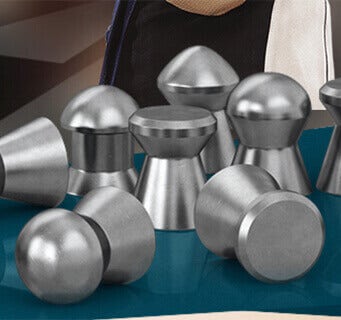 What are you looking for?