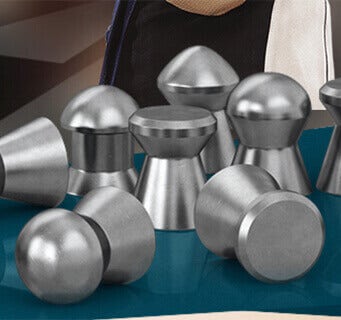 What are you looking for?
Airgun Pellet
Welcome to Kiehberg, your premier destination for buying airgun pellets in India. As passionate airgun enthusiasts, we understand the crucial role that high-quality air pellets play in achieving exceptional accuracy and performance. Whether you are a seasoned shooter or just beginning your journey, we offer a diverse selection of premium air pellets to meet your specific shooting needs.
From .177 to .22 caliber to cater distinct needs, our inventory includes air pellets in various shapes, weights, and designs. From flat-head diabolo air pellets for target accuracy to hollow-point air pellets for effective pest elimination, we strive to offer an extensive selection that optimizes your shooting performance.
Our inventory features air pellets from respected manufacturers such as RWS, JSB and H&N. These brands are synonymous with precision craftsmanship and utilize premium materials, resulting in consistent performance and reliability.
Purchasing airgun pellets in India has never been more convenient. Our user-friendly website provides a secure and seamless shopping experience, allowing you to explore our extensive pellet collection from the comfort of your own home. Detailed product descriptions, specifications, and customer reviews are available to assist you in making an informed decision. We ensure prompt and reliable shipping to ensure your airgun pellets reach you safely and efficiently.