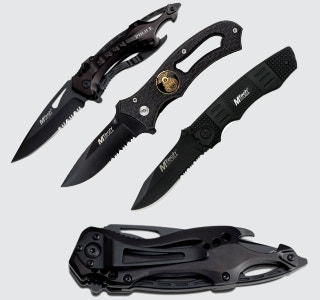 What are you looking for?
Find Convenience and Reliability with these Folding Knives
Folding knives are designed to provide a lot of use in a very compact package. These knives are comfortable in hand and the reliable locking mechanisms help minimize or avoid potential accidents.
These knives are as convenient as they are useful, and at Kiehberg we provide a huge selection from some of the most popular knife brands.
Everyone has different needs, though, so when you purchase folding knives online, be sure to consider:
- Blade size and style
- Locking mechanism
- Opening mechanism
Are you going with manual openers or spring assisted opening mechanism? Some of the popular mechanism include thumb studs, thumb holes, nail nicks, flippers, and others. Which do you prefer?
The Right Knife for Any Situation
Folding knives are generally more compact than fixed blade knives, making them safe for everyday carry. This makes them a popular option for everyone from sportsmen and industry specialists – anyone who needs to safely carry and access a knife.
There are a lot of options available for blade length, blade style, opening style, finishes, grips, and more.We have everything from colorful handles to matt black finishes and stainless steel or aluminum blades. Take a look at our current selection and find the one that has everything you need.
Added Features
Many of these folding knives also have a number of extra features. You can find gut hook blades, serrated edges, multi-function tools (bottle openers, screw drivers, belt cutters, glass breakers, etc.) This is a great way to get a lot of the same features of a tactical knife, but in a slim, convenient configuration.
At Kiehberg, you can find a range of high-quality folding knives that look great and are built to last. Take a look at this selection and order yours today.