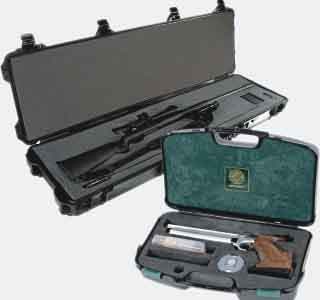 What are you looking for?
Air Gun Cases
The proper maintenance and upkeep of your air rifle or air pistol is important in ensuring that it continues to function and operate at its best. Besides the regular cleaning of the inside and outside of the air gun, keeping it safe in an air gun case can prevent potentially costly scratches, dents and drops.
An air gun in optimal, working condition is crucial in competitive shooting and enhances the backyard plinking experience.
At Kiehberg, we have a variety of air gun cases for both air rifles and air pistols. For air rifles, you can choose between a fitted, soft, over-the-shoulder case or a locking, hard plastic case. Some of the soft air rifle cases also have room for your scope. For air pistols, we have a big selection of locking, hard plastic air gun cases that are padded and lined to specifically fit your gun. Some air pistol cases are customized for specific guns while others are universal, fitting a wide range of pistol brands, shapes and size.