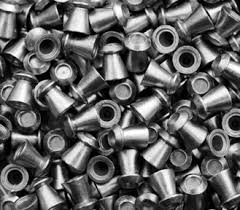 What are you looking for?
Air Gun Ammunition
When it comes to ammunition for your air rifle or air pistol, you have two ammunition choices: BBs or pellets. Most shooters prefer to use pellets as they tend to produce an accurate shot. There is also a variety of pellets as well, so the shooter can use his or her preferred size, shape and weight of pellet. Pellets are also air gun ammunition that can be used for a variety of reasons such as participating in competitions.
BB air gun ammunition, on the other hand, is often only used for backyard plunking because of their lack of accuracy and higher risk of injury due to ricochet.
No matter what kind of pellet or BBs you're looking for, our wide selection of air gun ammunition is sure to have it. We have pellets and BBs from H&N Sports, JSB Diabolo and RWS. Our pellet inventory contains cylindrical, cylindrical with round nose, domed, hollow point, pointed, round ball and Wadcutter shapes.
Both pellets and BBs have their advantages and disadvantages. If you're not sure which air gun ammunition is best for your gun and for what you want to do with your gun, contact us at Kiehberg and we'd be glad to help you out.