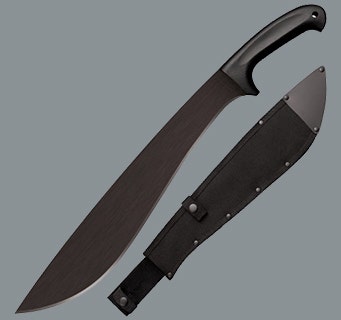 What are you looking for?
Buy Machetes Online

Machetes have a very distinct look and purpose, and at Kiehberg we carry a wide range of styles from some of the top brands in the industry. These are large, cleaver-like knives that are used in everything from harvesting crops to clearing brush as you trek through hidden paths. In any of these situations, you need the reliability of top-of-the-line machetes such as cold steel machetes.

We have a wide range of machetes for sale, and while these knives all fall into the same basic category, there are some significant differences.

Kukris– This is a lighter-weight machete, most often used for bushcraft or as a camping tool. Despite their light weight design, though, they are still very tough tools.
Bowie knives – These knives feature tough, sturdy blades. The design makes them useful in slashing or chopping jobs, but it can be used as a more precise cutting instrument, too.
Garden Camp Machetes – This extended blade makes it a great choice for clearing large swaths of ground before you set up camp.
Machete knives – The modern sleek design on this cold steel machete includes teeth on the upper side and a comfortable polymer grip, so it provides a lot of utility.

Choosing the Right Model

When you buy machetes online, it's important to know what they will be used for. This way you can be sure to get the right model that has the right weight, feel, and design.

We offer a range of heavy or lightweight machetes, so you can choose the one that is most effective for the task at hand. Longer trips, for example, may be more convenient with something lighter. Regular use on tougher jobs might require a heftier model.

There are a lot of great options here, and at Kiehberg we specialize in providing the highest quality brands at affordable prices. We even offer FREE shipping on all orders, so take a look at our machetes for sale and get the tools you need for your next excursion.