Folding Knives for the Outdoor Enthusiast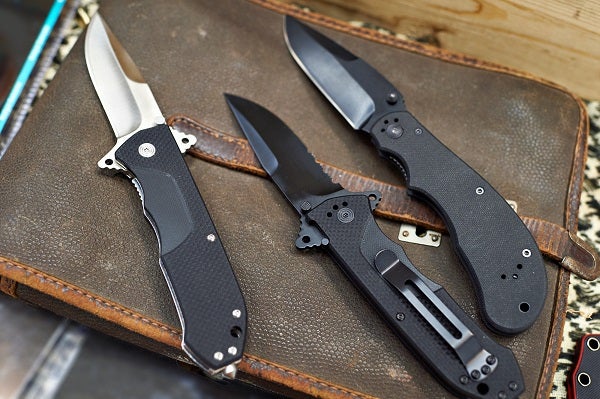 Selecting a folding knife for an outdoor enthusiast may seem like a daunting decision.
Folding outdoor knives are small. Their small size makes them portable and make them easy to place anywhere. Knives have many practical uses when it comes to the outdoors. Hunters and fishermen can use folding knives to cut up their catch, hikers and campers can use knives to cut branches to clear paths, to make firewood and as self-defense.
Outdoor knives are especially made to handle the tough elements and demands of the outdoors so they are strong, durable and easy to clean and maintain. These types of knives aren't the regular meat cutting knives you'd see at the dinner table, after all.
Which folding knives are the best? There are many types, sizes, shapes and weights, not to mention brands.
Before you get overwhelmed here are some of the best knives for outdoors enthusiasts:
1. Cold Steel G-10 Espada
This light-weight (5.5 ounces) outdoors knife features a hybrid drop/clip point blade, making it ideal for camping and hunting. The Espada works great for slicing thin brush as well as skinning fish and game. This folding knife is a manual, making it safer to use by keeping from accidentally keeping the blade from extending out. The handle is thin and grip-shaped making for comfortable, easy handling.
The blade is made of hardy Carpenter steel alloy and the case is made from stainless steel, giving the knife great durability and strength.
2. Cold Steel Kudo
This drop point folding knife extends up to 10 inches and weighs a mere 2.4 ounces. The Kudo features a rust resistant blade and handle both made of stainless steel. The blade is a thin 2 millimeters thick, making it an excellent choice for light brush clearing, cutting, and slicing. For safety, the Kudo features a sturdy, automatic locking feature.
3. Master USA Mu-A020MC Spring Assisted Knife
This knife features a black, 3 millimeter thick, stainless steel blade that quickly opens via a spring with a touch of a slider. Coupled with its easy to hold and grip handle, this knife is perfect for a variety of outdoor activities from gutting fish to cutting small branches for firewood. The spring assisted feature makes it convenient when one has his or her hands full.
Keep in mind that there are certain elements to take into consideration when choosing the best knife for your special someone. Pay attention to the size, shape, length and material of the blade and handle. Also consider the weight of the knife and the ease of use and how your loved one will likely use the knife for.
If you're looking for a good knife, check out Kiehberg today and we'll help you find the perfect folding knife for you or your loved one.